VirtualDigitalExpo 2020
While in person trade shows are canceled for now, I put a talented team together and developed what's set to be an EPIC virtual trade show to not only fill in the gap so we can all continue to connect and do deals but also move forward with an even cooler, more futuristic way of connecting!
Click here to activate your account and create your password for your FREE ATTENDEE TICKET. (Pssst after you activate your FREE Attendee Ticket, read through the whole email as there's a super special announcement towards the end!)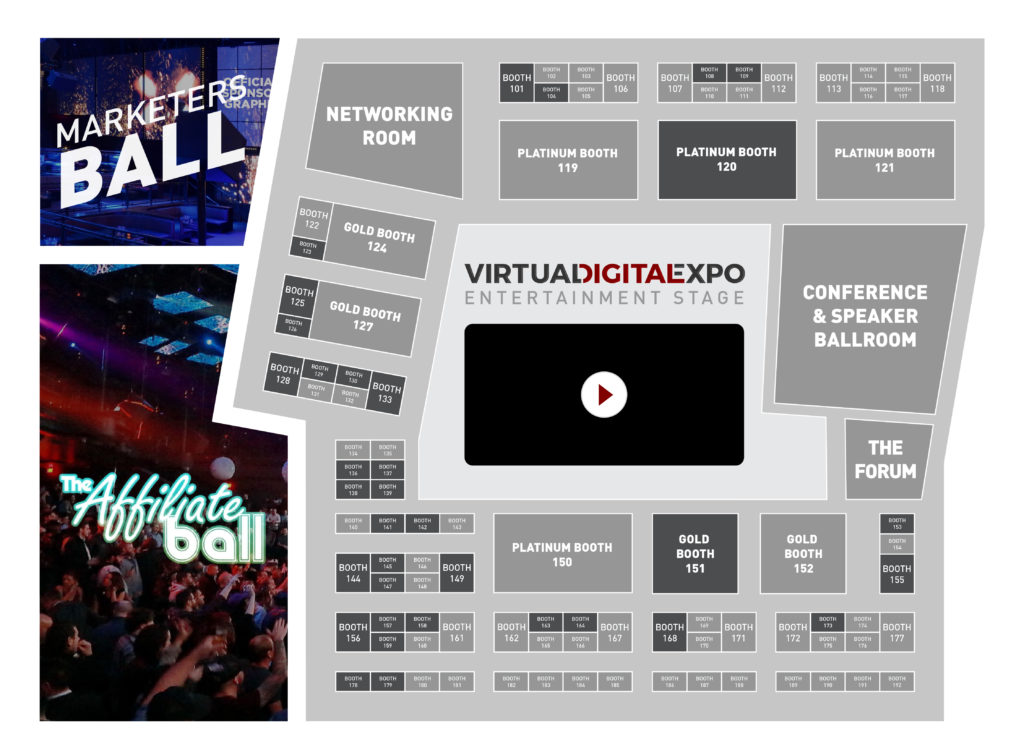 In many ways, it's going to be more experiential and immersive than an in person trade show without the conference crud and travel headaches. Those speaker only lineups you're hearing about will pale in comparison (though we're in talks to lock down some super impressive names.)
And we're not just using an existing tool. We've developed a whole new software that does way more than anything that existed before it! We're so excited for you to experience all we've been dreaming up and working around the clock to bring to life! (Along with inviting over 150,000 of your newfound biz contacts!)
Experience the 1st Fully Immersive Business Trade Show
Connect With 20,000 Pre Registered Guests
Hear from Legendary Speakers & Industry Leaders
Digitally Walk the Global Trade Show Floor & Interact Live At Booths
Meet with Thousands of Potential Buyers And Sellers
Attend Informative and Fun Events, Get Sales Tools, and Surprises
Generate New Business On Worldwide Hours
Leave Virtual Business Cards
Collect Qualified Leads Featuring: Matchmaker Speed Networking Tool
Attend a Legendary Party with Live Performances, Interactive Dance Floor, Talent Show and AFFY Awards!
Enjoy back to back nights of parties where you can interact with attendees, pop in special interactive rooms with various talent performing, visit tables and chat, and listen to your host D$ AKA Darren Blatt rock the virtual crowd like you've seen at the Affiliate Ball!
Featuring: Mixmaster Mike of the Beastie Boys & Cypress Hill to DJ LIVE! Did we mention there will dance floor with contest? Now THIS is gonna be unforgettable!
And, since you've been a supporter of my past Affiliate Ball events, YOU GET A FREE ATTENDEE TICKET!
We're gonna start charging for these soon, so it's a true hookup.
In fact, to save you the trouble, I already set up your account with your details! The only thing you have to do is
Click here to activate your account and create your password for your FREE ATTENDEE TICKET.
The Virtual Digital Expo will take place June 3rd through 5th 2020.
You really have to experience it to understand how next level this really is. Our goal is to empower everyone to connect, collaborate, promote, educate, learn from leading experts, and discover products and resources that will help each attendee, booth owner, and sponsor continue to thrive in business.
BOOTHS 50% OFF Plus $250 Set Up Fee Waived till May 8th (Just $500!)
Want to get your product or service out to the masses? Snag your booth to exhibit online! You'll have the ability to have a promo video, live chat and live video interaction to hundreds of people at once, even more than at an in person booth! You can messenger, use chat and forums, or have private one on one chats. There will even be webinar capability, places for you to provide info about your company, links and more all tied into your social media platforms. You can have employees working your virtual booth in real time with our live feature. Don't want to work the booth live? We can put a jpg or promo video in the video screen display instead. Not only are you able to connect with thousands of qualified leads, but you'll be able to set up appointments in advance and collect leads leading up to the expo. There are countless opportunities for you to promote your services. Booths are priced VERY low for a great experience for all and are 50% off today but they're limited in number so hurry and secure yours today. Have a client you want to butter up or know someone who could use a little more biz these days? Get them a booth too!
WANT TO BE A SPEAKER? If you get a booth, you get to be a speaker too!
Besides being in talks with business icon Gary Vaynerchuck and several others we can't announce just yet, we're giving anyone who gets a booth the option to become a speaker at your booth so you can share your knowledge with what's happening in the industry now and what's coming! There will be two days of speakers outside of the booths plus the ability to hold a speaker session at your booth and get advertised in OUR program and website!
PARTY
The Affiliate Ball you'll be talking about all year! Did I mention that we already locked in Mix Master Mike of the Beastie Boys to DJ and we have a virtual dance floor you can participate in or watch? We'll also broadcast never before seen and behind the scenes footage of Snoop, Luda, T Pain and many others with my videos we shot of their performances and ya'll in the background. Surprise famous guests will stop by and interact LIVE with us. I'll be MC'ing it live and even calling the AFFY Award winners via video conference to accept their awards.
Didn't have a chance to use your trade show budget but still wanna make a splash and keep business booming? Check out the different, affordable sponsorship levels. Main sponsors can even get a copy of the attendee list for an additional fee. Prices will go up on May 1st in just a few days!
I'll be targeting my over 45,000 Affiliate Ball guests in my database plus another 100,000 in my partners reach so I'm sure I'll get a huge crowd of industry professionals you'll want to do deals with. Curious to get a taste of what it will all look like? Click here!
We know this is a very difficult time for everyone and I'm hoping that things with Covid 19 will sort themselves out and we will be able to have in person trade shows and the Affiliate Ball again, but in the meantime, let's keep building our relationships online and doing deals, virtually!
Reply back if you'd like more info on a sponsorship, booths, or attendee list packages, or if you want to set up a call to discuss!
Darren Blatt
(818) 825 3972 Virtual Digital Expo